Balázs Baji: "I have never competed in Tatabánya before"
The Hungarian national record holder of the 110 metres hurdles is looking forward to the first stop of the Hungarian Grand Prix series.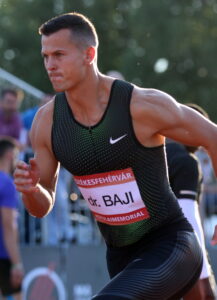 dr. Balázs Baji, who won the 60 metres hurdles at the indoor Hungarian National Championships in January clocking a time of 7.72, is looking forward to the outdoor season. He will compete at the Paulinyi Jenő Memorial first and then will participate in the Hungarian Grand Prix's first stop in Tatabánya, which is held on June 5 and is part of the Continental Tour Bronze series. Balázs has not yet qualified for the Olympics, so he is happy about the opportunity to compete.
– Getting a chance to compete at a high level is important for all Hungarian athletes, not only for me. It is especially significant because of the coronavirus, since it is much more difficult to travel abroad. It is very important that we have a chance to participate in these competitions, since we have a shot at qualifying for the Olympics. It is extremely helpful that we can go up against the best of the world.
– How do you feel physically going into the outdoor season?
– I have started preparing after a good indoor season. It is important that I can work without pain after my injury. I feel that I have taken steps forward in speed and stamina. I am optimistic about the season, and will start competing on May 9, at the Paulinyi Memorial, where I do not expect a world-beating result just yet, but it is important to get going. After that, we are working towards top form and I expect to get close to the Olympic qualifying time of 13.32. I need to be a hundred percent in Tatabánya, so life will be exciting until the beginning of June.
– In 2017, on the exact date of the upcoming competition in Tatabánya, you have ran a much better time than the Olympic qualifying standard.
– 2017 was a wonderful year for me, I kept breaking the national record. Right at the beginning of June, in Prague, I broke it with 13.24, then I went on to run 13.23 in Ostrava. Afterwards, I broke the record again at the Gyulai István memorial with 13.15, which has yet to be topped since. I really hope that I can get close to these results again.
– Have you ever competed at the Grosics Gyula Stadium?
– I have never competed in Tatabánya before, so it will be especially exciting for me to try the new track, which will motivate me even more to get a good result.