Luca Kozák, Bence Halász and strong competition in Budapest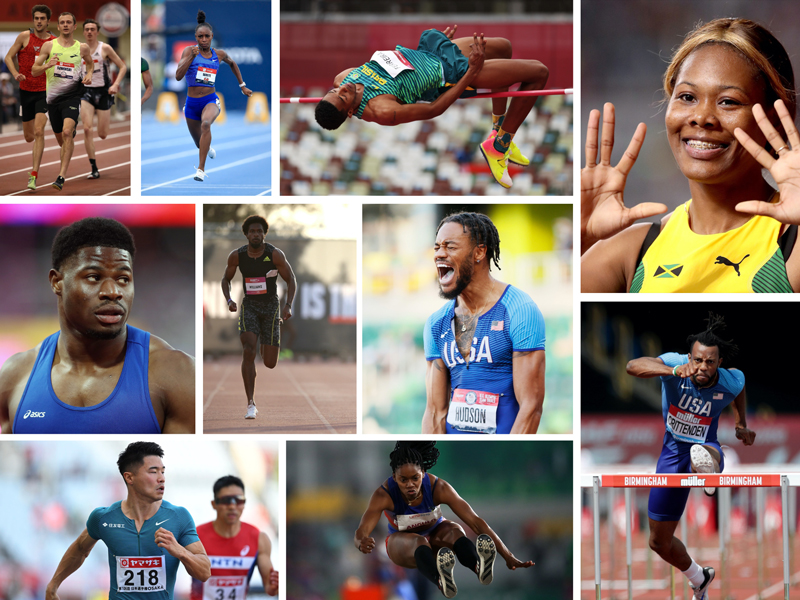 Athletes from all over the world will compete at the Hungarian Grand Prix Series in Budapest on Friday, and the best Hungarian athletes will be among a strong field at the Lantos Mihály Sports Centre to start the battle for qualifying to the 2023 World Championships in Budapest.
The cream of Hungarian athletics will compete at the first event of the Hungarian Grand Prix Series on Friday 2 September. As this meeting is a Continental Tour Bronze event, our team can gain valuable points in the World Championships qualification.
Luca Kozák and Bence Halász no longer have to worry about whether they will be able to compete at the National Athletics Centre from 19-27 August 2023, as they can already claim World Championships qualification thanks to their excellent performances at the European Championships in Munich. But it is not worth missing the performances of two of our top athletes on Friday, and there will be plenty more to look forward to.
In the men's 110 m hurdles, Valdó Szűcs, Bálint Szeles and Dániel Eszes have a serious challenger: US athlete Freddie Crittenden. The 28-year-old hurdler recently won the North and Central American Championships with a time of 13.00 seconds, the fourth best result in the world this year.
Andrew Hudson was also excellent at this event, winning gold in the 200m with 19.87 seconds. The longer Tamás Máté and Zoltán Wahl keep pace with the Jamaican, the better chance they have of scoring valuable results.
In the men's 100 metres, two of our young sprinters, Márk Pap and Dominik Illovszky, will also have a strong field to prove themselves against rivals such as the winner of last year's bronze medal in Tatabánya, Emmanuel Matadi. The Liberian will be joined in the field by two US Continental Championships podium finishers, Kendal Williams and Brandon Carnes, and Japan's Yuki Koike, whose personal best is also within 10 seconds, will be worth keeping an eye on.
One of the biggest names in the women's 100m flat and perhaps the whole Budapest event is Natasha Morrison, a two-time world and one-time Olympic champion with the Jamaican 4x100m relay team. The Hungarian record holder Boglárka Takács and Jusztina Csóti, who also ran a great relay at the European Championships, will make this event worth watching. Great results are also expected at the half-lap race, not only from Boglárka Takács and 18-year-old Luca Kocsis, but also from Kayla White with a time of 22.18 and Antonique Strachan from the Bahamas.
In the 800m, Dániel Huller, who performed impressively in Munich and reached the semi-finals, will be up against World Indoor bronze medallist Erik Sowinski and Koitatoi Kidali, one of Kenya's most talented athletes.
For the first time this year, Máté Koroknai, who qualified for the 2021 Tokyo Olympics, will face a strong opponent in the 400m hurdles in Aldrich Bailey Jr. In the high jump, Péter Bakosi will also be up against South American champion Fernando Ferreira of Brazil, who has a personal best of 2.30 metres.
In the women's long jump, Petra Farkas, Diana Lesti and Anastasia Nguyen will have to beat Ecuador's Yuliana Angulo. Réka Gyurátz is the favourite for the hammer throw and Réka Szilágyi for the javelin throw.
All in all, 80 Hungarian athletes are expected to be cheered for on Friday. In addition to the members of the large team that did well at the European Championships in Munich, a number of young talents will also be able to prove themselves in the international field. The names of Hanga Klekner (pole vault), Fanni Kövér (javelin throw), Janka Molnár (400 m hurdles), Anna Tóth (100 m hurdles), Miklós Csekő (hammer throw), Mátyás Guth (high jump) and István Palkovits (3000 m steeplechase) are not unknown – all of them can look forward to great success in the years to come, as they will do in Budapest on Friday afternoon.
Photos:
Freddie Crittenden: Getty Images / Naomi Baker / Staff
Andrew Hudson: Getty Images / Steph Chambers / Staff
Emmanuel Matadi: Getty Images / Alexander Hassenstein / Staff
Kendal Williams: Getty Images / Katharine Lotze / Staff
Yuki Koike: Getty Images / Kenta Harada / Stringer
Natasha Morrison: Getty Images / Christian Petersen / Staff
Kayla White: Getty Images / Andy Lyons / Staff
Erik Sowinski: Getty Images / Christian Petersen / Staff
Fernando Ferreira: Getty Images / Patrick Smith / Staff
Yuliana Angulo: Getty Images / Ezra Shaw / Staff