Olympic qualification, meet records and a new U23 Hungarian record in Tatabánya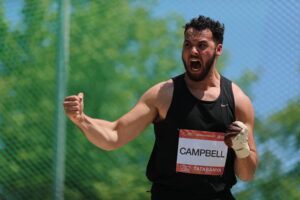 The first stop of the Hungarian Grand Prix series in Tatabánya started with the men's hammer throw at noon on Saturday. Taylor Campbell's win kicked off the competition (78.23) and the British athlete has booked his place for the Olympics with his throw. Mykhaylo Kokhan, who is ninth on the world rankings, finished second with 77.00 metres. Dániel Rába (73.64), who is fighting for a place in the Olympics, finished third, Bence Pásztor (73.05 SB) finished fifth, while Krisztián Pars (70.63) was sixth.
Apostolos Parellis (61.09) from Cyprus won the discus throw beating Polish Bartłomiej Stój (60.86) while Róbert Szikszai (60.54) finished third. Róbert is fighting to qualify for Tokyo just like his compatriot, János Huszák (60.20) who finished fifth.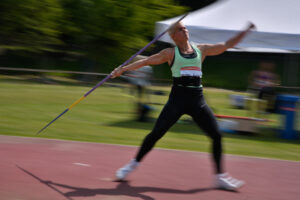 Réka Szilágyi became the first Hungarian winner after she prevailed in the javelin throw with her 59.66 metre last attempt beating Jasiunaite Livetá (59.06) and compatriot Angéla Moravcsik (58.93 SB). Réka and Angéla both aim to qualify for the Olympics – the former was 31st and the latter was 47th on the world rankings before the competition.
The first heat of the women's 400 metres hurdles was won by Evelin Nádházy (SB 1:00.73), Regina Mohai (1:02.20) came in second while Klaudia Sorok (1:02.82) finished third.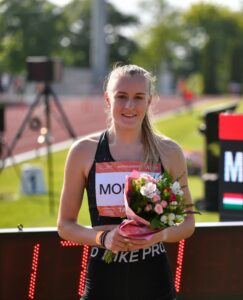 Janka Molnár won the second – stronger – heat with the best time of her life, a new U23 Hungarian record (56.17). Polish Joanna Linkiewicz (56.83) finished second, Sára Mátó (57.02) came in third.
In the men's 400 metres hurdles field Dániel Varga (52.52) won the first heat beating Levente Soós (53.07 PB) and Attila Perge (55.25 SB).
Máté Koroknai (50.37) beat last year's Gyulai István Memorial winner David Kendziera in the second heat (50.37), while Martin Kucera (51.08) finished third and Tibor Koroknai (51.41 SB) finished fourth.
Some world class athletes featured in the men's 100 metres. American World Champion of the 4X100 metres Michael Rodgers (10.38) took the first hear beating Richard Kilty (10.44) and Hassan Taftian (10.50), while Dominik Illovszky advanced to the finals as well. Emannuel Matadi won the second heat, Alonso Edward was second (10.25), Andrew Roberston (10.25) was third while Hungarian Tamás Máté (10.50) came in fourth to advance to the finals.
Bahaman Devynne Charlton (12.85) prevailed in the women's 100 metres hurdles beating Hungarian Luca Kozák (12.92) and Paharonka (12.99) from Belarus. Gréta Kerekes finished fourth with a season beast 13.14.
Ukrainian Gerasenko took home gold in the women's high jump beating British Morgan Lake (1.92) and Emily Borthwick (1.91). Luca Renner (1.84) was one centimetre from her personal best, which earned her joint sixth-place with Barbara Szabó (1.84).
American Trumaine Jefferson (7,63) won the men's long jump beating Polish Mateusz Jopek (7.59) and Hungarian Kristóf Pap (7.46).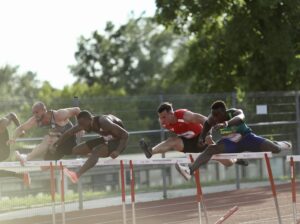 Gabriel Constantino (13.51) bested the field in the 110 metres hurdles while Shane Brathwaite (13.62) took home silver and Hungarian favourite dr. Balázs Baji (13.76) finished third.
The women's 100 metres ended in double British victory: Desiree Henry (11.58) won gold, Bianca Williams (11.61) finished second and Hungarian Jusztina Csóti (11.77) came in third.
One of the most anticipated events of the day was the men's 100 metres, which ended with Emmanuel Matadi's (10.18) victory. The Liberian sprinter beat Alonso Edward (10.20) and Michael Rodgers (10.25) for the gold.
Kenyan Rosefine Chepngetich won the women's 3000 metres ahead of Fancy Cherono (9:42.46) and Viktória Wágner-Gyürkés. In the men's field, Wibeforce Chemiat Jones finished first beating Brian Fay (8:29.75) and István Palkovits who clocked a personal best 8:29.86.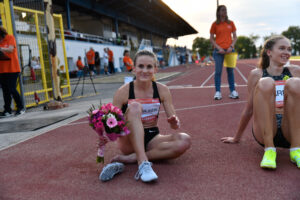 Bianka Bartha-Kéri surprised the 800 metres women's field with a spectacular last 50 metres and won with a personal record of 2:01.34. The Hungarian beat Angelika Sarna (2:01.38) and Eglay Nalyanya for the gold. In the men's field, Balázs Vindics finished third with a season best 1:47.55 behind Cornelius Tuwei (1:46.07) and Tshite Tshepo (1:46.34).
Petra Farkas won the women's long jump with a season best 6.60 metres beating compatriot dr. Anasztázia Nguyen (6.49) and Polish Anna Matuszewicz (6.44).
The crowd witnessed a meet record in the men's high jump when Malaysian Nauraj Singh leaped over 2.27 metres which earned him the gold medal.  Cypriot Vasilios Konstantinous (2.23) finished second while Polish Sylwester Bednarek (2.20) earned bronze. Dániel Jánkovics finished fourth, Péter Bakosi fifth and Péter Agárdi sixth, all of them with a result of 2.17.
The last two events were the 4X100 metres relays. The Kéri, Csóti, Takács, Sorok quartet won the women's race while the team of Illovszky, Máté, Szabó, Kádasi prevailed in the men's competition.
–  I am very pleased. This competition proved that the Hungarian Grand Prix series has a reason to exist. The atmosphere was great and many meet records were broken during the event. Janka Molnár's U23 national record was especially great to see. I also have to mention that we saw an outstanding result by international standards when Taylor Campbell qualified for the Olympics in the hammer throw with a huge personal record (78.23) – said Péter Deutsch chairman of the competition's organizing committee.