Tatabánya will host a very high-standard competition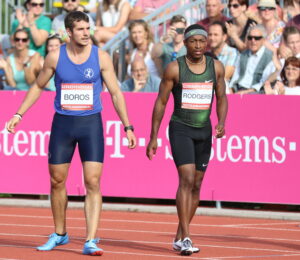 The first stop of the Hungarian Grand Prix series in Tatabánya will feature some excellent athletes at the Grosics Gyula Stadium on June 5.
World Champion of the 4X100 relays with the United States, Michael Rodgers (PB 9.85) will visit Hungary for the Continental Tour Bronze Competition in order to participate in the 100 metres. The former Pan American Game winning sprinter is a five-time national champion and has made the finals and medalled in several major events. He won the Gyulai István Memorial in 2018, where he will also participate this year.
He will clash with Panamanian Alonso Edward (PB 10.01), who is a former World Championship silver medallist and fourth place finisher, an Olympic seventh place finisher and two-time World Cup winner.
Emmanuel Matadi from Liberia (PB 10.01) will also participate in this event. He is in excellent form since he broke his personal record in April in Florida. Two-time indoor World and European Champion Richard Kilty (PB 10.01) will also provide fierce competition for the mentioned sprinters.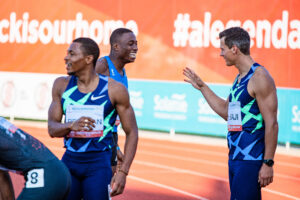 In the 110 metres hurdles, Hungarian record holder and 19-time National Champion Balázs Baji will go up against compatriot Valdó Szűcs, who has four National Championship gold medals. Valdó competed at the Adidas Boost Boston Games last week where he finished third clocking a time of 13.72. The athlete of Zalaszám-ZAC lost to Grant Holloway and Shane Braithwaite, but beat Aries Merrit, world record holder of the event. He will have the chance for revenge against Barbados's seven-time National Champion, two-time World Championship six-place finisher, Braithwaite (PB 13.21) who will also attend the competition. Brazilian Gabriel Constantino, South-American record holder, sixth-place finisher at the 2018 indoor World Championship (Birmingham), winner of the 2019 Universiade (Naples) (PB 13.18) will join them.
In the 800 metres American Eric Sowinski (PB 1:44.58) will go up against Kenyan Cornelius Tuwei (1:43.82) and South African Thsep Tshite (1:44.69). Eric won the bronze medal at the 2016 indoor World Championships in Portland. Cornelius won the silver medal in 2019 at the Africa Games in Rabat, while Thsep made the semi-final at the World Championships in Doha and is also a two-time African Champion. We are excited to see how Hungarian Balázs Vindics (PB 1:46.18) will perform against them. The eleven-time National Champion is currently on pace to qualify for the Olympics and he is in fine form as he broke the Hungarian National Indoor Record in February.
Last year's Gyulai István Memorial winner, David Kendziera will headline the 400 metres hurdles field. He finished fifth in the Diamond League final in 2019 and is currently eighth on the world rankings. The competition will provide an excellent chance for Máté Koroknai (PB 49.70) and his brother, Tibor Koroknai (PB 49.24) to try and break their personal records. Both are Hungarian Champions, the former has won three times, while the latter has prevailed on nine occasions.
In the 3000 metres steeplechase Nicholas Bett (PB 8:10.07) will compete against compatriot Barnabas Kipyego (PB 8:09.13). Bett finished second at the Hungarian Grand Prix in 2018, while Kipyego finished third. Kipyego is a former U20 World Champion and Bett was a fifth-place finisher at the Diamond League Finals. U23 European Champion and 18-time Bulgarian Champion, Mitko Cenov (PB 8:20.87) will also participate.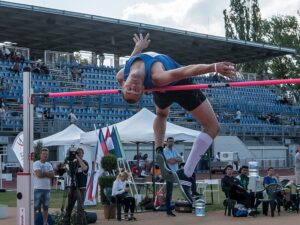 High jumper, indoor European Champion and ten-time National Champion Sylwester Bednarek will also attend the event. He will try to beat the best Hungarian jumpers Péter Bakosi and Dániel Jankovics. Péter is a 14-time Hungarian Champion while Dániel has won the national title four times.
The long jump will feature Trumaine Jefferson (PB 8.18). The versatile athlete has competed in the 100 metres, 200 metres, 400 metres, high jump, long jump and 4X100 relays. In the latter, he finished sixth at the Pan American Games in 2019.
Polish discus thrower Robert Urbanek (PB 66.93) will have to battle against Cypriot Apostolos Parellis (PB 66.32). Robert is a World and European Championship bronze medallist, but he will not have an easy task, since Apostolos is a World Championship fifth place finisher, who was sixth in the European Championships. Hungarian János Huszák (PB 65.38) and Róbert Szikszai (PB 65.20) can both make a significant leap on the world rankings if they perform well. János is currently 32nd while Róbert is 38th and the first 32 get to qualify for the Olympics.
Former U20 and U18 European Champion, Ukranian hammer thrower Myhaylo Kohan (PB 77.78), who is currently ninth on the world rankings will participate as well. He will have serious rivals in Hungarians Bence Pásztor (PB 75.74) and Dániel Rába (PB 73.85).
In the women's 100 metres Boglárka Takács (PB 11.56) and Jusztina Csóti (11.66) will battle against two British European Champions Desiree Henry (PB 11.06) and Bianca Williams (PB 11.17).
Bahaman Devynne Charlton (PB 12.61) will go up against Canadian Phylicia George (PB 12.65) in the 100 metres hurdles. Holder of the current Hungarian record, Luca Kozák (PB 12.71) will also feature, as will her compatriot, Gréta Kerekes (PB 12.93). Gréta is currently 41st on the world rankings and the first 40 get to travel to Tokyo in this event.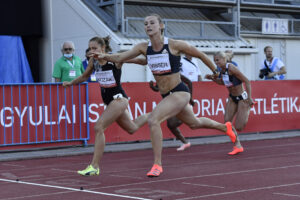 In the women's 800 metres Hungarian National Champion Bianka Bartha Kéri (PB 20:02.07) will represent our country.
Four-time National Champions Sára Mátó (PB 56.89) and Janka Molnár (PB 56.94) will compete in the 400 metres.
In the 3000 metres steeplechase Viktória Wágner Gyürkés (9:34.56) is still fighting to book her place in Tokyo. The 26-time National Champion, who is currently on pace to qualify for the Olympics, will compete against four-time title winner Lili Anna Tóth (PB 9:47.48).
The women's high jump could be very interesting as well: Morgan Lake (PB 1.97) and Saint Lucia's Olympic sixth place finisher Lavern Spencer will battle for victory, so Hungarian Barbara Szabó (PB 1.94) will not have an easy task.
The long jump field will include Anasztázia Nguyen (PB 6.77), Petra Farkas (PB 6.72) and Diana Lesti (PB 6.58). In the javelin throw Réka Szilágyi (PB 62.45) and Angéla Moravcsik (PB 59.64) will try to move up on the world rankkings. The former is 29th and the latter is 45th at the moment – the first 32 get to go to the Olympics.