The best shot putters to compete in Budapest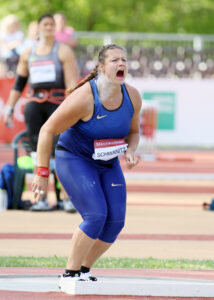 At the following meet of the Hungarian Grand Prix female shot putters can collect the points similar to the Diamond League system, which means that they can pave their way to next year's European and world championship.
Let's see who is competing in Budapest!
Out of the eleven competitors eight have already passed the 19 meter mark.
If we only consider personal bests, Christina Scwanitz (PB: 20.77) is the cream of the crop: world champion, two times European champion, she made it to the olympic final three times and won seven Diamond League meets. In Tokyo she barely missed the final.
Indoor world champion Márton Anita (PB: 19.87) is also on her way back to the top after giving birth to her daughter in January. Even though she missed the final in Tokyo, a few weeks later Márton won the Hungarian Super League meet in Nyíregyháza in shot put and in discus throw too. The olympic bronze medalist also has a silver medal from the world championship and two indoor European championship titles.
Auriol Dongo (PB: 19.75) finished 4th in Tokyo and she currently second in the World Athletics ranking. The Portuguese athlete has thrown her PB this June in Spain.
The US champion Chase Ealey's PB is 19.68. She won the Shanghai meet of Diamond League and her SB is 19.45.
Aliona Dubitskaya (PB: 19.65) – representing Belorussia – finished 9th in Tokyo.
Pan American champion Danniel Thomas-Dodd (PB: 19.55) has indoor and outdoor silver medals from world championships. The Jamaican athlete's SB is 19.26 from June.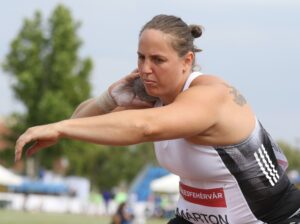 Maggie Ewen (PB: 19.54) finished 4th in the world championship final in Doha, and won the NACAC-championship in Toronto. Her outdoor PB is 19.47.
Fanny Roos (PB: 19.34) finished 7th in Tokyo and she also won a silver medal at the indoor European championship in Torun. She has been crowned Swedish champion in seven (!) consecutive seasons.
The Canadian Sarah Mitton (PB: 18.89) has thrown her PB in May in the US. She also excels in hammer throw and in heptathlon.
Sara Gambetta (PB: 18.88) finished 8th in Tokyo, and she has already won the winter Dobó Cup and European championship.
Indoor and outdoor Hungarian champion Veiland Violetta (PB: 16.55) finished 2nd in the previous Hungarian Super League meet at Nyíregyháza.
The Diamond League event of shot put is to start at 3:15 pm ont he 24th of August at Lantos Mihály Sportközpont.