This happened in Pápa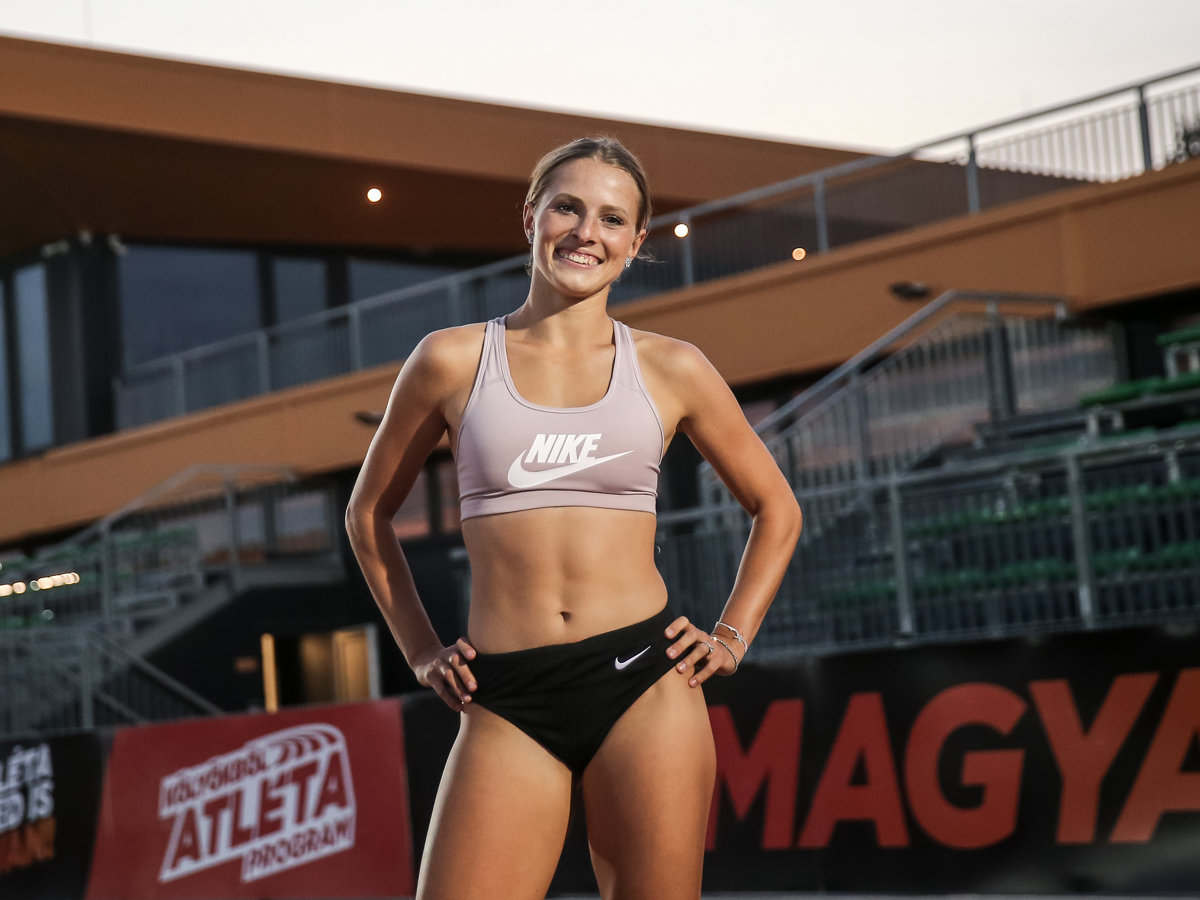 In addition to the new Hungarian record of Boglárka Takács, the Hungarian Grand Prix series on Tuesday at the Pápai Sportcentrum brought six domestic victories.
Boglárka Takács, who recently celebrated her 21st birthday, improved the women's 100m national record to 11.31 seconds with a sensational performance. The young sprinter of the Budapest Honvéd Sports Club finished in 4th place in the Bronze category of the Continental Tour.
"For a race that didn't feel like a really good run, this is a big surprise for me. I was stuck at the start but my coach said I still had it left in me at the end. So I could even get a sub-11 time, but I still have a lot of work to do, so I'm not expecting that from myself this Saturday. But it gives me a lot of extra energy to continue and that's also thanks to the home course and the Hungarian crowd, which always means a lot to me. I hope I can make it to the World Championships in Budapest and then I can experience the applause I get there, even more than an Olympic champion," said the sprinter, who beat his own record of 11.37 in St. Pölten.
Several Hungarian competitors also did the Budapest-Pápa double, meaning that after Friday's race at the Lantos Mihály Sports Centre in Budapest, they were not beaten at the international event in Pápa.
One of these was Bianka Bartha-Kéri, who triumphed in the 800m with a fantastic performance, setting a new personal best of 2:00.29.
"I'm very close to 2 minutes now and it's an incredible feeling to have won twice in the last four days and even improved my time. I'm working on setting a PB of 1:59 next year," said the SVSE runner, who for the first time in her career went under 2:01 in the two-lap race.
After Budapest, Róbert Szikszai also won the discus throw in Pápá, where he was again a double Hungarian success with second place finisher János Huszák. The NYSC athlete's winning throw flew 61.46 metres. TSC-Geotech's Janka Molnár won the 400 m hurdles with a time of 56.71, 26 hundredths of a second better than Budapest's, while Réka Gyurátz, who came first in both hammer throw events, was able to go over 70 metres this time (70.18 m).
In both the women's and men's hammer throw, Szombathelyi Dobó SE also scored a success: Dániel Rába threw 74.04 metres for fifth place, one of the biggest wins of his career so far. Anita Márton, who had to miss the European Championships due to illness, won the weight throw: the experienced competitor from Békéscsabai AC threw 16.85 metres on her last attempt.
In the men's 400 m flat three of our competitors also set individual records: Attila Molnár came 3rd with 46.67, Ernő Steigerwald 4th with 46.73 and Zoltán Wahl 5th with 46.80.
"I didn't think that I would have an individual best at the end of the season, but I surprised myself. Unfortunately, it didn't come out of me at the European Championships, but that's how it is. I'll try to improve at the World Championships in Budapest" – said Attila Molnár, FTC's Attila Molnár after his great run.
In the men's 100m flat event, after a close rivalry between Brandon Carnes and Kendal Williams in Budapest, Carnes emerged victorious this time with a dizzying time of 10.04 seconds. Márk Pap was 6th in 10.39 and Dominik Illovszky in 10.47, both encouraging performances in the final leg of the season.
In addition to the six Hungarian victories, our team collected six second places and ten third places on Tuesday afternoon. Among the athletes finishing in the Top 3, Angéla Moravcsik finished second in the javelin with a season's best of 56.22m, while Bálint Szeles beat Budapest's Freddie Crittenden in the men's 110m hurdles to finish second behind Roger Iribarne.
Four days after his dizzying Hungarian U23 record in the 3000m steeplechase, István Palkovits took part in the 1500m, where he finished second in a hard-fought race behind Andrew Hunter and ahead of István Szögi.
The 800m men's race was also a very exciting and extremely physical event, in which Dániel Huller was unfortunately pushed off the track by Koitatoi Kidali at 200m, so our European semi-finalist did not finish. After his Kenyan rival was disqualified, Erik Sowinski, who finished in 1:46.75, was declared the winner.
In the women's 100m hurdles Gabrielle Cunningham won with 13.19, followed by Anna Tóth and Gréta Kerekes both with 13.54 – the photo finish put the DVTK youngster in the top position this time. Aldrich Bailey Jr. won the men's 400 m hurdles with 49.01, which was the best time in Pápá after Budapest.
Hungarian Grand Prix Series 2022, Pápa, Hungarian Top 3 finishers:
WINNERS:
Réka Gyurátz – hammer throw, 70,18 m
Dániel Rába – hammer throw, 74.04 m
Róbert Szikszai – discus throw, 61.46 m
Bianka Bartha-Kéri – 800 m, 2:00.29
Janka Molnár – 400 m hurdles, 56.71
Anita Márton – shot put, 16.85 m
2nd place:
János Huszák – discus throw, 59.62 m
Anna Tóth – 100 m hurdles, 13.54
Bálint Szeles – 110 m hurdles, 13.98
Diana Lesti – long jump, 6.40 m
István Palkovits – 1500 m, 3:39.72
Angéla Moravcsik – javelin, 56.22 m SB
3rd place:
Donát Varga – hammer throw, 72.78 m
Barbara Szabó – high jump, 1.83 m
Gréta Kerekes – 100 m hurdles, 13.54
Attila Molnár – 400 m flat, 46.67 PB
Hanga Klekner – pole vault, 4.31 m
Petra Farkas – long jump, 6.38 m
István Szögi – 1500 m, 3:40.67
Balázs Vindics – 800 metres, 1:49.32
Violetta Veiland – shot put, 15.26 m
Fanni Kövér – javelin throw, 54.81 m